Since
I posted yesterday about the water bottle ban
at the
Copenhagen Climate Summit
, some people I know have been surprised by the encouragement to use bicycles. Copenhagen is perhaps the most bicycle-friendly city in the world.
Bike City Copenhagen
points out:
Copenhagen is the only city to have been awarded the UCI Bike City label. Copenhagen offers six world class cycling events between 2008 and 2011.

The UCI Bike City concept, developed by the International Cycling Union, is designed for internationally renowned cities wanting to get involved in cycling (from competition to sport for all), as an environmentally-friendly leisure sport and a gentle means of transport.
This can point to a couple of things about behavior and economics:

First, Copenhagen is not exactly a balmy place to live. - temperatures in the winter hover around freezing and still a significant portion of the Danish population rides a bike.Some people kvetch about riding in the cold. Bundle up.
Second, the exercise of getting around is good for your heart, your lungs, controlling
weight (which I know from experience is hard in the winter given how much comfort foods sneak into winter diets), and it's invigorating and wakes you up in the morning.
Third, cycling takes little more time than riding in a car and probably less time than riding a bus in many places. For example, my ca. 4-mile commute from my house to my office or vice versa on my single-speed Schwinn beater bike (at right) takes about 20 minutes. The car ride at commute time is about 14 minutes. The bus takes longer than the bike ride.

Fourth, the time on the bike is nicer. I am free with my thoughts, or choose to smile at passersby, try to catch people on hills to campus, and breathe fresh air.

Fifth, it saves a lot of fuel, materials, and emissions. The bicycle is the most efficient vehicle designed by humans. It's GHG emissions reside mostly in its production and upkeep which are infinitessimal compared to every motorized vehicle. The article "Cycling and the Environment" points out, bicycling 960 miles takes the equivalent of one gallon of gas and the 70-100 bikes can be built with resources used for one car.
Sixth, even fairly expensive bicycles are fractions of the cost of cars all around. A well-built commuting bicycle like a Redline D440 or similar bike is about $500-600. It has nine speeds, a sturdy frame, is easily upgradeable for disc breaks if you're worried about stopping power (for about another $150), and can easily have paniers, a rack, or a basket put on it so that you can carry bags and things with you. Additionally, the upkeep on a bike should be fairly minimal. Wipe your chain. Test your breaks. Keep dirt and grit out of cable housing. Get it serviced every once in a while.

By my on-the-fly calculations, the cost of four tanks of gas right now (say 12 gallons at $3/gallon) is $108. That's enough for 4 replacement tubes, 2 tire levers, a hand pump for the road, chain lube, a multi-tool, and a tune-up. Top flight on a solid commuter bike is less than $1,000 for a machine that will last a long time for minimal upkeep cost so long as you basically take care of it. Assuming you don't try to race a commuter bike in the local state forests, you're upkeep will be a new chain and cassette every few years, wheel truing as needed (don't bomb curbs or stairs please), tire, break, cable, and housing replacements, and the like. Once again, 4 or 5 tanks of gas take you through a year. Compare that to what you have to do right now with your car and all of its upkeep and the bike is money efficient too.
This has said nothing of reused/recycled bikes like those at our local shop Freeze Thaw Cycles. That's even better because it's extending life cycles in a big way with sturdy parts assembled b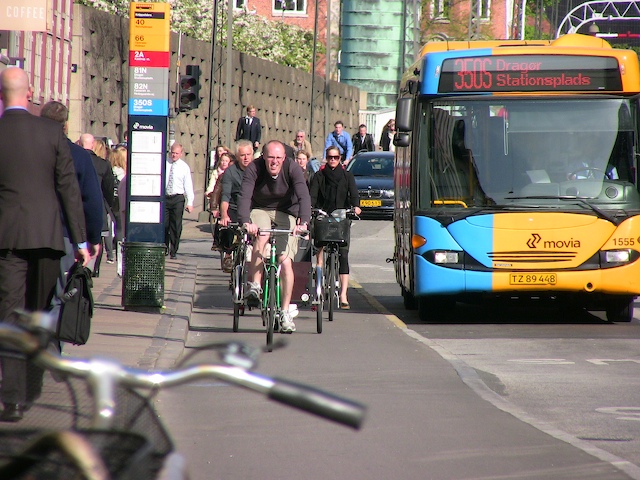 y invested people. You can bring your upfront cost down by a few hundred bucks.

But how can the Danish do this? Because their transportation infrastructure has been configured a good deal around bikes. Streets have been changed for maximum bicycle freedom and not cars and trucks. Pedestrians have more space and are less likely to be injured. Rush hour is nice to get around. Look at right. All of this enables 36% of Copenhageners to get to work or school by bike with the goal of 50% by 2015 (see here).

And you know what? On all measures of health, wealth, and well-being, the Danish outscore almost everyone. On my new favorite index, the Happy Planet Index, Denmark has a Life Satisfaction score of 8.1 out of 10. That's higher than France, Germany, Canada, the United States, Sweden, Australia, and Japan. It's tied for happiest with Norway and Ireland. As far as I can tell, the only country that has been measured higher is Costa Rica which has an 8.5. As a side note, Costa Rica has the coolest bike race in the world, the "Ruta de los Conquistadores." Totally insane. But I digress.
Riding a bike correlates with happiness and health. Danes are invested in being happy, healthy, invested in their communities, and invested in the health of the planet. Not just money. Methinks we have something to learn here.
Lessons here for schools.

Exercise? Check. Enjoy the outdoors? Check. Time for reflection? Check. Reduced ecological footprint? Check. A tool for teaching about history, math, physics, material sciences, design, engineering, maintenance, and caloric output? Big checks all around.

I think we have a teaching tool! Here's a nutty idea: maybe American school children should be given bicycles instead of laptops. Now that would be radical.